Renting Tents For Your Restaurant or Bar​​
Propane - Direct Fire Heater
Understand the cost of propane and direct fire heaters
Structures - Tall & Sturdy
Ensure that you make the most of your space with tall ceilings and durability. You need to be open everyday.
Overhead Radiant Heaters - Natural Gas or Propane
Due to the recent COVID-19 pandemic, reopening your restaurant to full capacity might sound like an impossible task. In these unprecedented times, Knights Party Rental is ready to serve our communities so things can return to a somewhat normal state. Chances are, if you are considering a tent for your patio or parking lot, you aren't an expert on the subject. That's where we come in. Knights Tent and Party Rental has ten years of experience with setting up tents for events around Michigan. We have adapted from private events to being able to provide rentals to restaurants and businesses around the state.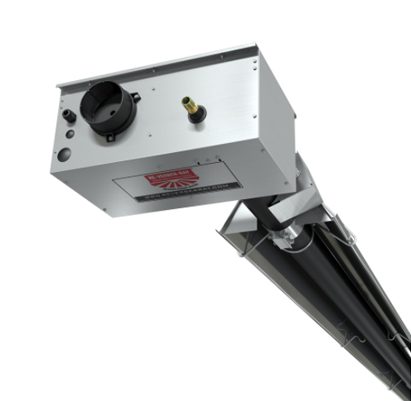 Listed below is everything you'll need at the time of your application. This varies city to city, but the same concept applies across the board. We willing to go through the footwork of gathering the required documents up for a fee. We have two restaurants (Kona Grill and Fogo de Chao Brazilian Steakhouse) in the city of Troy that serve as examples of our outstanding work. These restaurants have been able to be open for Thanksgiving and have reported an increase in sales.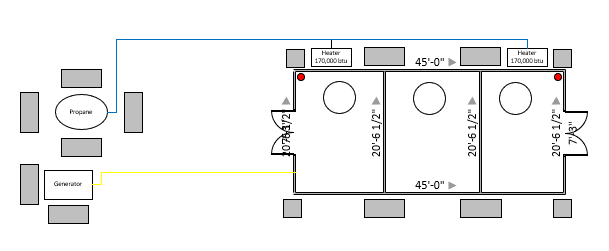 Items Required at the time of application:
Measured and scaled site plan of staging area showing all: buildings, tents, generators, portable toilet, and ingress and egress of a parking lot.
Type of electrical equipment and how the power will be supplied.
Amplification equipment you'll be using and the start/end time of its use.
If the tent is staked into the ground, you'll need to get ahold of MISS DIG to mark out the utilities. This needs to happen no later than 48 hours prior to any staking.
Tent restraint form. We will provide this through the manufacturer of the event.
Flame spread certificate. All our tents are up to dated and fire certified.
Interior layout of the tent. This is something that we are able to draw up for you.
You will need to maintain the required handicap cap spaces within the parking lot. 
Other Things to consider when renting a tent:
If you plan on renting long-term, our structure tents are the way to go in regards to being snow-rated.
The governor mandated that tents must have three open sides. You will have to have the tent inspected by the city before you are able to open. If your tent is going to have more than one side, it is considered to be internal space. There are additional guidelines set by the Michigan Department for Health and Human Services(MDHHS) regarding this.
You are able to use outdoor heating such as forced air or propane fire pits as long as they are attended to by someone trained to use a fire extinguisher. 
You must have an extinguisher within 5 feet of the pit.
Any tents larger than 10×10 require the submittal of manufacturer specs and a layout plan.
All of our tents have a fire retardant on the fabrics.
The tables inside the tents must be placed 6ft apart.
The tents require a minimum of 5ft on all sides in order to be placed. For example, if you rented a 20×30 tent, you would need an available space of 30×40.
We can stake into asphalt but our main way of tent staking is on a hard surface with concrete blocks. All of our tents are going to be set down according to proper requirements.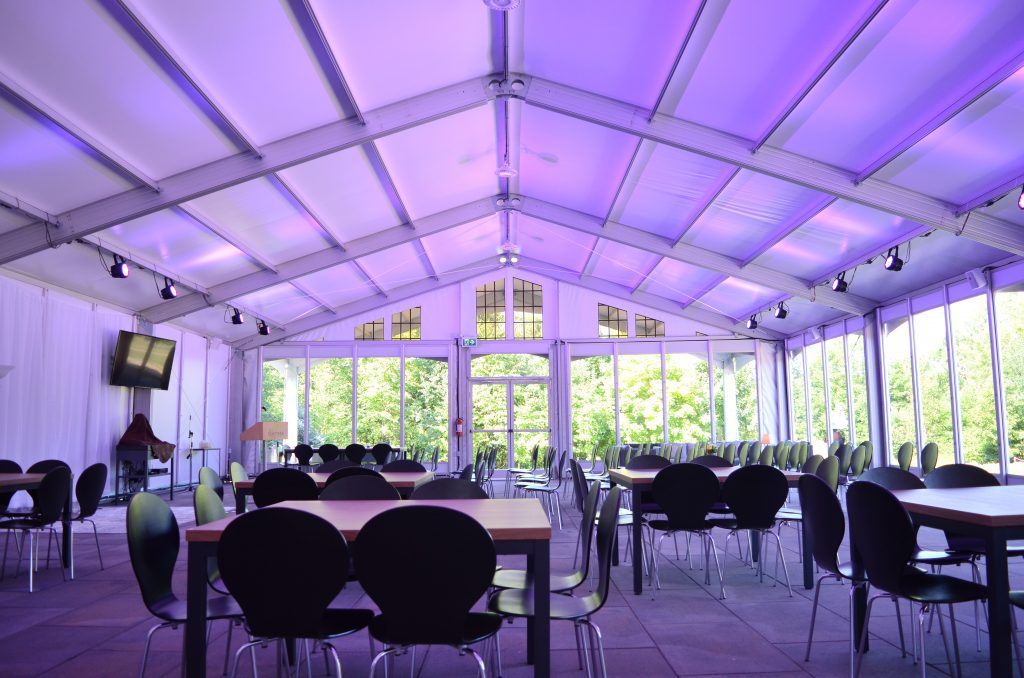 The 11 Steps to Reopening your Restaurant or Bar
Develop a Covid-19 preparedness and response plan
Provide Covid-19 training to employees
Require employees to wear face masks and gloves
If an employee shows multiple symptoms of Covid-19, close the restaurant or bar immediately
Limit the capacity to 50% of normal occupancy
Maintain six feet of physical distancing among customers and employees
Close waiting areas and self-serve food or drink options and limit shared food items for customers
Post signs requiring customers to wear a face mask and informing them not to enter if they are sick
Clean high-contact areas after each customer
Inform customers of precautions your restaurant or bar is taking to prevent the spreadof Covid-19
Install overhead protection over city-approved outdoor seating areas
Getting Ready for Operating in the Winter in Detroit
The first thing that business owners in Detroit are asked to do is apply for the winter operations permit. The link to apply is at Detroit Means Business. After applying, you'll need to have a list of documents ready. If you're going to be using a heating apparatus, the specifications must be submitted at the time of the application. You will need to get a floor plan of the tent if it is bigger than 10×10. The floor plan must include all entrances, heater locations, and seating. Please be wary that any tent plan submitted with more than one sidewall will be considered an internal space and there are additional attributes that are included with the MDHHS's orders.