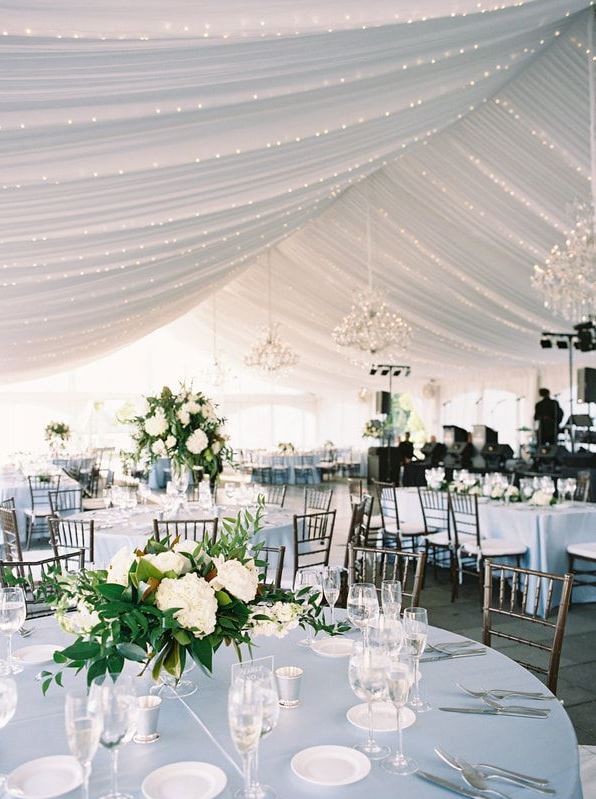 To plan a winter tent event, there are several key factors to consider:
1. Venue selection: Choose a suitable location for the tent that can accommodate your event's size and requirements. Ensure the area is level and has proper access for guests and vendors.
2. Tent rental: Select a tent that is specifically designed for winter conditions. Look for features like insulation, heating options, and sturdy construction to withstand cold weather and potential snowfall. Knights Tent and Party Rental has Clear Span Structure Tents that have a high capacity for snow loading and high winds. They are the ideal tent for your event.
3. Heating and insulation: Arrange for adequate heating inside the tent to keep guests comfortable. Consider options like Knights portable heaters, tent heaters, and for sure flooring. Insulate the tent properly to retain warmth.
4. Lighting: Plan for appropriate lighting to create a cozy and inviting atmosphere. Use a combination of ambient lighting, chandeliers, string lights, and spotlights to illuminate the space effectively. Knights lighting options has warehouse lighting for commercial uses. Just ask.
5. Seating and layout: Determine the seating arrangement based on the event type and expected number of guests. Consider providing comfortable seating options like padded chairs or benches with blankets for added warmth. Consider also, Coat Racks and Hangers, so guests do not have to hang off back of chair. Ask Knights – we have them!
6. Decorations: "Cool" ideas for a festive event: Choose winter-themed decorations to enhance the ambiance. Incorporate elements like snowflakes, icicles, evergreen branches, and warm-colored accents to create a festive atmosphere.
7. Catering and beverages: Arrange for a menu that includes warm and comforting food options suitable for winter. Offer hot beverages like cocoa, mulled wine, or hot cider to keep guests warm.
8. Safety measures: Ensure the event space is safe for guests by clearing snow and ice from walkways and providing proper signage. Have a contingency plan in case of extreme weather conditions.
9. Entertainment: Plan activities or entertainment that align with the winter theme. This could include live music, winter sports demonstrations, or interactive games. A small stage for a band or DJ with a dancefloor under the tent, will really get the event hopping!
10. Communication: Keep guests informed about the event details, including dress code recommendations for cold weather. Provide clear directions and parking information to ensure a smooth experience.
Remember to consult with professionals experienced in organizing winter events to ensure all necessary precautions are taken and that your event is a success.