Elevate Your Event in West Bloomfield, Rochester, Lake Orion, and Troy, MI with Our Stunning Dance Floors"
Introduction:
When it comes to hosting remarkable events in West Bloomfield, Rochester, Lake Orion, and Troy, MI, a dance floor becomes the centerpiece of the celebration. Whether it's a wedding, a private gathering, or a DJ-fueled party, our selection of dance floors is designed to transform your event into an unforgettable experience. In this article, we'll explore the significance of our dance floors and how they can set the stage for an extraordinary celebration in these vibrant Michigan cities.
Dance Floors That Match the Vibe:
Our dance floors are more than just a space to dance; they're an expression of your event's style and energy. From the elegant settings of West Bloomfield to the lively atmospheres of Troy, we offer dance floors that match the unique vibe of each city.
Perfect for Weddings in Lake Orion:
In the charming city of Lake Orion, our wedding dance floors create a romantic ambiance that's perfect for your special day. Whether you're planning a classic wedding or a contemporary celebration, our dance floors provide a stylish backdrop for your first dance and unforgettable moments.
Private Events in Rochester:
Rochester is known for its private events and exclusive gatherings. Our dance floors add an element of sophistication and fun to these occasions, ensuring that guests have a dedicated space to dance, connect, and celebrate.
Dance the Night Away in Troy:
Troy is a city that knows how to party, and our dance floors are here to help. They provide the perfect space for DJ-driven parties, offering an electric atmosphere where every guest can join in the festivities.
Dance Floors:
Our selection of dance floors in West Bloomfield, Rochester, Lake Orion, and Troy, MI, is designed with the highest standards in mind. They are not only aesthetically pleasing but also durable and safe, ensuring that you can dance the night away without any worries.
Make Your Event Unforgettable:
Choosing the right dance floor is the key to making your event truly unforgettable. It's where cherished memories are created, and where the rhythm of your celebration comes to life.
Reserve Your Dance Floor Today:
For event planners and hosts in West Bloomfield, Rochester, Lake Orion, and Troy, MI, Knight's Tent and Party Rental offers exceptional dance floors for your special occasions. Contact us today to discuss your event details and reserve a dance floor that will set the stage for a remarkable celebration in these vibrant Michigan cities.
Tent & Event Floor Rental
Dura-Trac Tent Flooring Rental
Ikadan Wood Look Tent Flooring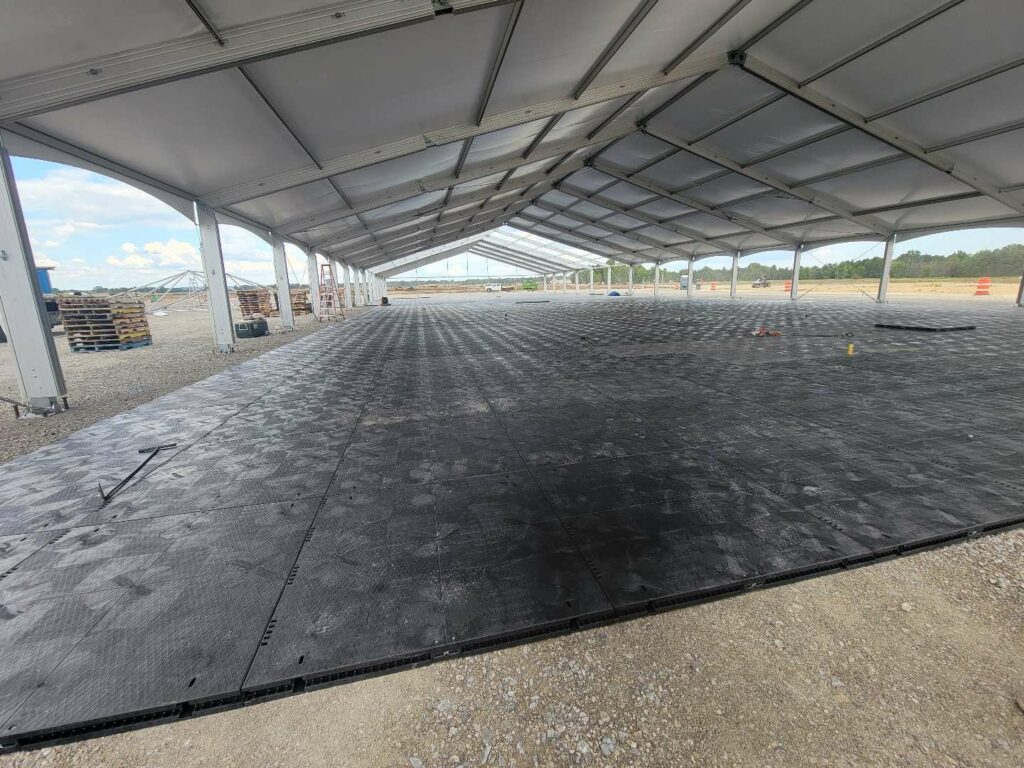 Clear Top Tents can create a LOT of heat in the summer. This situation happened due to extremely hot weather and clear fabrics. The panels expanded after installation.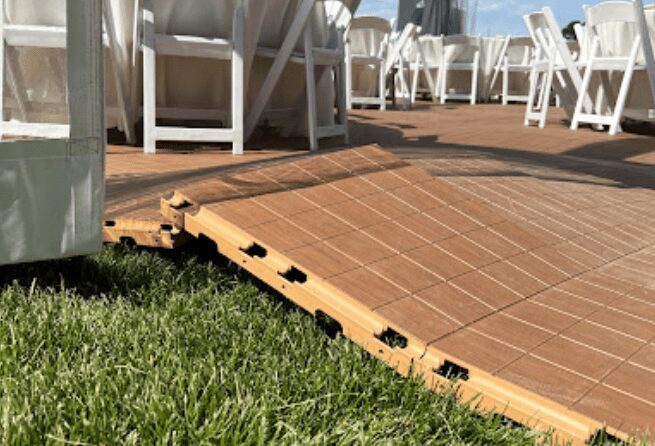 Our flooring rental is great for any tent event. You'll need to rent the Dura-Trac flooring as a the base floor. This allows for a strong, solid surface to put carpet or laminate onto. Each panel is 4ft x4ft and locks seamlessly together. They weigh about 50lbs each and measure 2 3/4in thick. Customize these to any dimension in 4ft increments. 
The Dura-Trac flooring can be used on its own or you have the option to have a carpet or laminate installed. This gives your event a beautiful finish. The carpet comes in a few colors and the laminate comes in a rustic color. These flooring options are only meant to be set down on the Dura-Trac flooring.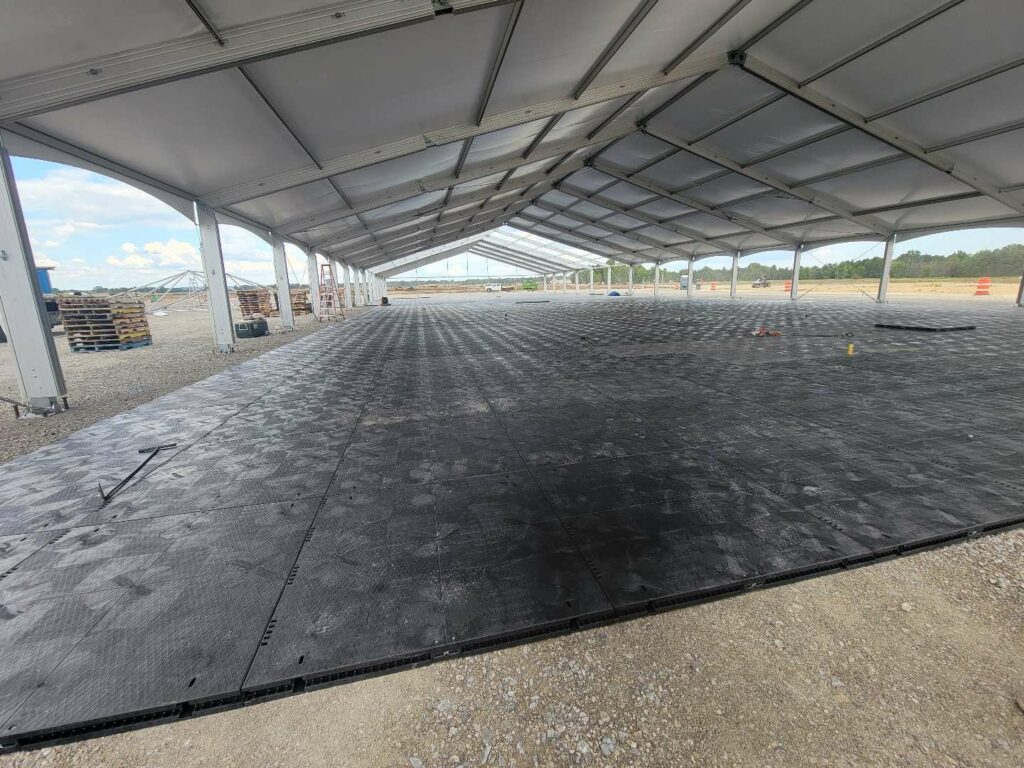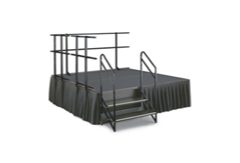 Our staging rental is perfect for your wedding, charity, music festival, fundraiser, formal event, and private party. A single stage piece comes as a 4ft x 8ft piece. This means that you can make any size stage in increments of 4ft or 8ft. Not only do we offer staging rental but also carry stairs, railing, and a wheel chair ramp. You can have your stage anywhere between 18in and 24in in height. We also carry skirting so you can have a more appealing look and create storage underneath the stage for the duration of the event.