Swag Drapery for a 40×80 Pole Tent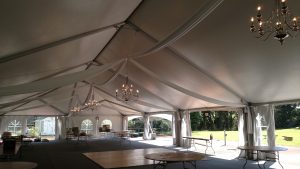 Perfect for Weddings!
Our tent swags are not included with the 40×80 Pole Tent but they are available at an extra cost. The price of the swag drapery includes labor. Use this product in weddings and elegant events!
---
Tent Decor Gallery
On the other hand, check out our image gallery of our featured packages that contain our swag drapery, and tent liner options.
---
Wedding Tent Swags
Finally, the custom-made wedding packages are put together with everything you will need to have a perfect wedding. Packages include Tent, Tables, Chairs, Linens, Dishware, and Decor. Rent the Swag Drapery for your next 40×80 Pole Tent. We encourage you to browse our large selection of wedding event products.
OR, View our available options inside Wedding Packages.
Alternative Products
Not only do we set up Drapery in our tents but we have Tent Liners make a very nice looking false ceiling in the tent.
---
(248) 238-2400
Monday – Friday
9AM – 5PM
---
Check us out on Wedding Wire
Read our Reviews on Google
View our Facebook
Yelp Ratings
---
SEO ALT Tags: Swags, Drapery, Decor, Wedding Decoration, Graduation Decoration, Tent Swags, Tent Decor